Welcome to Kidevolve
A mindfulness ECOSYSTEM for Kids
The magic of THE Imaginarium PODCAST & CREATIVE MIND JOURNEYS
Our mission is to bring all the proven benefits of mindfulness to kids aged 6-12 in a super fun, engaging way. So we're building a mindfulness ecosystem that kids will actually want to use on their own.
Enter Kidevolve's Imaginarium Podcast (now on Apple Podcasts) and our very special Creative Mind Journeys!
Our Creative Mind Journeys™ are first-of-their kind audio stories that mix music, sound fx, incredible voice talent and pure whimsy to deliver highly imaginative tales that double as smart guided practices. Each story addresses a different challenge or opportunity, helping kids strengthen their aptitudes for an underlying psycho-social-emotional skill. This way, kids can become big-hearted mental ninjas, serene floating tortoise shells as they drift off to sleep, and resilient wave-riding dudes who can take things in stride… and go on to lead their best lives.
"Adult-centered mindfulness approaches - simplified or shortened - are just not the right approach for MOST kids. Kids need their OWN materials - a wholly kid-centered, FUN-FILLED path into mindfulness training.
-Founder, Kirsten Chase
10 Cool CategorieS
Kids, parents, mental health specialists and educators can choose Creative Mind Journeys from 10 cool learning categories:
Course 1 – Self-Control Training
Course 2 – Sleep Zone Training
Course 3 – Resilience Training
Course 4 – Empathy Training
Course 5 – Anxiety Control Training
Course 6 – Gratitude Training
Course 7 – Joy & Energy Training
Course 8 – Pain Management Training
And coming soon:
Course 9 – Animal & Nature Empathy Training
Course 10 – Social Justice Training
NOTES TO ADULT MOTIVATORS
Yes, it's up to you to make the first CMJ introductions. Find a quiet space and turn off all distractions. Have fun reviewing our course categories and making choices with kids about which tracks to explore. We recommend listening together the first few times, so you can discuss themes and feelings before and afterwards. Then stand back and watch in amazement as kids request our CMJs all on their own (with absolutely no arm-bending from the adults in their lives).
When having this much fun makes you feel this good and strong inside,
who wouldn't want more?
About Kidevolve
our Story
Meet Kidevolve - a first of its kind mindfulness ecosystem developed just for young children (6 to 12 years old).
Mindfulness programs are proven to address a wide range mental health issues - from anxiety to depression. They contribute to leading a life that feels calmer and more peaceful, while cultivating compassion towards others. Yet most programs focus solely on adults, when kids can benefit from this same training tenfold. Kids learn the techniques effortlessly and easily develop a natural, relaxed way of interacting with the world that becomes a template for life.
reaching kids with MINDFULNESS training requires a uniquely targeted approach
At Kidevolve, we recognized early on that young children are not going to be drawn to mindfulness without an exciting hook and varied, interesting content to keep them engaged. So we designed our core 6 week after-school program and our new Kidevolve Imaginarium Podcast and Creative Mind Journey™ audio tracks to be thoroughly engaging for kids, by fusing components that keep them enthralled. With a kid-centered blend of meditation, movement, unique narrative, music, and compassion training, we pique their curiosity early on and get them wholly invested in the process of inner discovery. We want to put kids in the driver's seats of their own minds.
The result? Kids love participating and reap all of the proven rewards, without feeling bored by the process. They ask for more. They practice on their own. They can apply what they've learned to real-life. They make Kidevolve tools part of the family routine. And parents and educators benefit too, gaining materials to support the psycho-social-emotional skills they are already underway teaching.
Kidevolve works with many collaborators to explore innovation in the area of mindfulness for kids. We are proud to be affiliated with educators, children's mental health professionals, our active parent community, and the Consciousness Explorers Club in Toronto (CEC).
Mindfulness
defined
Mindfulness is the intentional, accepting and non-judgemental focus of one's attention on the emotions, thoughts and sensations occurring in the present moment. It can be learned using a wide variety of meditational and awareness practices. It centres on breath, thoughts and physical sensation, but encourages merely 'noticing' instead of actively trying to make changes.
Evidence
COMPELLING BRAIN SCIENCE supports MINDFULNESS... scroll to discover more
The Kidevolve Philosophy
KIDS HAVE A RIGHT TO MINDFULNESS TRAINING
Children today are showing signs of distress. School delinquency and dropout rates are on the rise. Family life continues to be high-stress and fractured. Pressure abounds for children, their teachers, and parents. A child's ability to learn and function well across all areas is directly linked to their overall state of well-being and mental health. Kids need help now in learning how to self-regulate behaviour and mindfully engage in the focused concentration required for both academic and interpersonal success.
We believe kids have a right to the proven benefits of mindfulness training, so that they have improved chances of growing up to be well-adjusted, resilient, emotionally stable, caring adults. We know kids as young as four or five years old can learn these skills easily and immediately realize the rewards, so giving kids a new kind of 'toolkit' to manage emotions, self-regulate and produce inner calm and focus just makes sense - and directly leads to improved societal outcomes.
Empowering kids is our mission. Kidevolve is all about exploration and empowerment. We want our tools to be a unique tool for seeding, supporting and nurturing kids to discover their own path to self-regulation.
By empowering kids in this unique way, we empower our future adults.
Goal-Based Programming
HOW KIDS CAN USE MINDFULNESS TRAINING
The goal at Kidevolve is for kids to master mindfulness techniques, so they can call upon them whenever they need to calm themselves or refocus their energy and attention. This type of refocusing enhances concentration, memory, and learning, facilitating a more productive and relaxed environment at home and at school. With increased awareness to the outside environment and to the internal experience of the body and mind, kids benefit psychologically and emotionally, while gaining a general sense of well being.
When kids learn mindfulness skills, they report feeling more confident, less stressed, and being able to cope with challenges at home and at school. At a minimum, this is our goal. Beyond this, kids report having better focus for tests and exams, feeling more 'connected' to others and feeling more joyful. With each additional week of training, the greater the benefits.
Here's what kids say after mindfulness training...
"When my brother Brice is yelling, I know how to find a quiet place in my mind that tunes him out. This is cool." (six year old girl)
"I used to get really, really stressed out about spelling tests at school. Now I know what to do to stay calm and focused on test days. I'm even doing better in spelling!" (nine year old boy)
"Sometimes I feel sad when Dad drops me off at the end of the weekend. I used to go to my room to be alone. Now, I know how to help myself feel better inside until I see him again." (ten year old boy)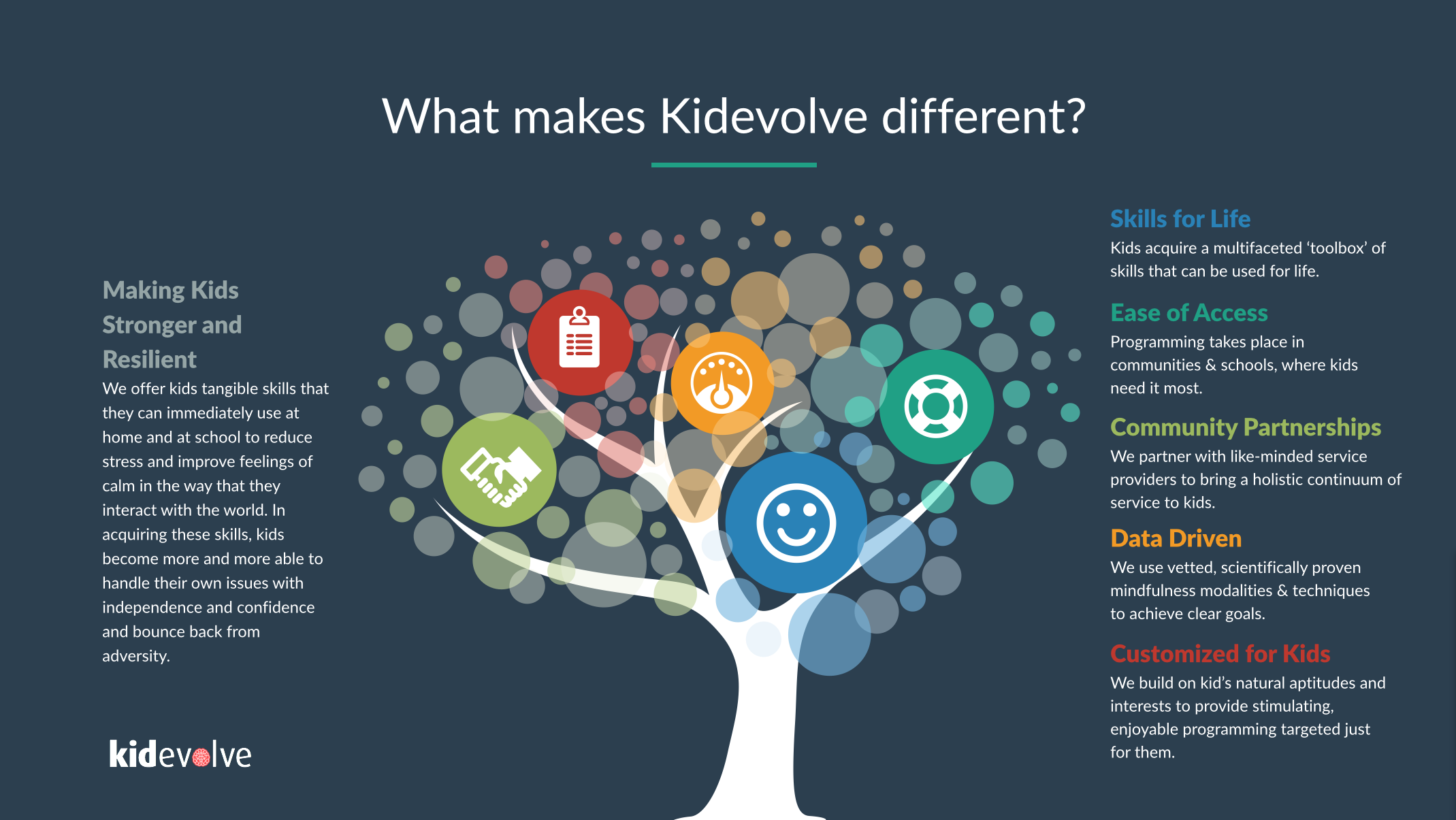 Kidevolve Programs
Our curriculum is based on innovative research that pulls from positive psychology, organizational development, neuroscience, behavioural science, and contemplative philosophy.
The KIDEVOLVE IMAGINARIUM PODCAST & CREATIVE MIND JOURNEYS™
Highly imaginative audio stories that deliver key mindfulness training
Built especially for kids aged 6-12 (not repurposed adult materials and no adults needed for motivation)
Innovative blend of music, sound fx, incredible voice talent and pure whimsy
Stories double as smart guided practices, tackling a unique challenge or opportunity and helping kids with different psycho-social-emotional skills
Kids listen independently and replay favourites
Stories span 10 cool learning categories that kids love:
Course 1 – Self-Control Training
Course 2 – Sleep Zone Training
Course 3 – Resilience Training
Course 4 – Empathy Training
Course 5 – Anxiety Control Training
Course 6 – Gratitude Training
Course 7 – Joy & Energy Training
Course 8 – Pain Management Training
And coming soon:
Course 9 – Animal & Nature Empathy Training
Course 10 – Social Justice Training
6 week, AFTER SCHOOL PROGRAM
Six, engaging 50 minute Mindfulness courses, built just for kids aged 6-12
Delivered in intimate groups of no more than 12 kids
Based in a partner studio, school or Kidevolve host-parent's home
Goal-directed with weekly learning objectives (such as Loving-Kindness, Emotional Awareness, and Mindful Listening)
Integration of age-appropriate mindfulness techniques with interactive exercises, movement, yoga and/or qigong, story-telling, music, compassion training and Social & Emotional Learning
Geared towards defined learning goals while also offering the flexibility to accommodate children's unique contributions
Kidevolve is all about exploration and empowerment.
Our programs and tools offer a unique opportunity for seeding, supporting and nurturing kids to discover
their own path to self-regulation, inner calm and feeling more joyful.
Testimonials
WHAT PEOPLE ARE saying aboUt kidevolve
Post the release of our Apple Imaginarium Podcast in summer of 2019:
"Your CMJs are hands down my favorite online practices for kids!"
"My kids and I love these...as far as I'm concerned these are the top mindfulness practices/meditations out there for kids!"
Well, how great is this. I just did Heart Breathing (Creative Mind Journey) with my class (Grade 2: 6 & 7 year olds)... I had them all lie on their backs. I explained afterward that we would "practice" it a few more times together, then they could use it on their own anytime they needed to feel calm. THEY LOVED IT!
their faces were relaxed, or became relaxed as the track progressed

boys and girls responded equally

their bodies became more still, all except the most hyperactive child, a girl, who still indicated positive response

a "fierce" kid, who is usually "too cool" for this stuff, allowed herself to give in to it

when I asked them what the breathing messages were, one of my cowboy boys responded, in all seriousness, "Love and care about all the people we love."

they said the track made them feel: calm, relaxed, sleepy, hypnotized, like they were on the clouds (a hyperactive child), like they were floating, and more that I can't quite remember (if I wrote while they talked, it would have changed the responses)
They are very interested in doing it again. And I really think they will practice on their own, with more coaching.
I LOVED watching them respond to this, and they were generally calmer when done. I anticipate they will look forward to the tracks in the future, and I really do think some will internalize the methods.
Vena Gupta - Grade 2 Elementary Teacher
Tonight, my son requested "Heart Breathing followed by the Sleep Song" (his words). And while he listened, his little sister said "Ants In Your Pants make you dance!" and giggled. So... just in case you don't know yet... you are making a huge impact in my childrens' lives... thank you.
Jenn Helland - Mother of two (5 & 3)
After only one time listening, my 9 year old daughter was hooked and asks for Ocean Adventure Bedtime story regularly before sleep. She now looks forward to sleep and feels much more independent in getting ready for and into bed. Creative Mind Journeys are an important part of our families bedtime routine.
Sonja Davies - Mother of one (9)
I've got two boys and they can really get on each other's nerves. Smart and story-willed, neither gives an inch. The Ninja Creative Mind Journeys have rocked for our family. The boys listened together and did all three Journeys in succession. Because the tracks were so hilarious, they asked for them over and over and actually practiced the skills. Now they argue about "who is the king Ninja" but actually treat each other better - with calmer heads and bodies and with more goodwill and inner control. Car rides are quieter and home life is more respectful. My wife and I are learning from them! Hats off to Kidevolve.
Gord Scarpa - Father of two (7 & 11)
I'm floored by how much my daughter loves the empathy journeys. They seem to speak to her personally. Her favourite is Switch to the Inside. This track has helped her to move back and fourth at will from external focus to internal focus, and really zero in on how she's feeling. It's also given her more language to describe her emotional states. Brilliant! She'll have these skills for life.
Colleen Dickenson-Smyth - Mother of one 6)
The program helped my girls and ourselves slow down, be more aware and find greater pleasure in the beauty around us. "Let me be happy, let me be peaceful and let me filled with love" is a constant mantra in our home. My three year old can be caught singing it on her way to sleep. To have this awareness that we are in control of our thoughts and have tools to help ourselves, at such a young age, can only be an amazing thing. Kidevolve has given this gift to both our girls.
Janet Andras - Parent-Host; Mother of two (3 & 7); Danforth Program
Cecile is a most inspiring teacher (and person!) and the children loved being in her class. Aryaman after the last class said to me "I'm sad meditation class is over, I love meditation class". It taught the children (and us) so much, reminded us of sooo many life special and important things to be aware of. I'm grateful to have had this opportunity for my child and I know a huge part of this has been Cecile's kind, warm, wise, thoughtful, encouraging, humorous, logical, balanced approach and unique way of communicating with the children. Yesterday we were all thinking "oh no, no Kidevolve class today!"
Divya Mirza - Parent-Volunteer; Mother of 5 year old boy; Annex/Alliance Program
My son is in week 3 of Kidevolve's Spring Annex program at Alliance. He had been very stressed about an exam and I had tried several conversations with him to help him rationalize his anxiety. Finally, he went to his room where I found him lying on his bed. When I asked what he was doing, he said he was doing his "4-8-7" (a breathing technique he learned at Kidevolve). Soon afterwards, he was calm and fell asleep. I still can't believe it, and I feel eternally grateful for how this program has helped my son.
Mother of an 8 year old boy, Annex Program
My children have a LOT of energy ... a feisty five year old daughter, and a seven year old son who is constantly moving. Their dynamic - like many siblings close in age - is fun but often fraught: they take their frustrations out on each other, and have trouble channelling their feelings. We noticed a subtle but profound change in their relationship after they started to learn some mindfulness techniques - they became kinder with each other, more patient, and more in tune with their inner turmoil - able to find words to describe their feelings, rather than letting frustrations bubble over and taking it out on each other. There is one moment that really illustrates what a powerful change took place in my son. One evening, i was in my bedroom, and heard loud breathing coming from my son's room. I had kissed him goodnight about half an hour before, so i was surprised to hear him still awake. I peeked through the door and saw him seated in the lotus position ... his hands on his knees ... breathing: in, and out. in, and out. When he caught my eye i asked what he was doing and he said he was having trouble falling to sleep, so he needed to relax and breathe. My heart melted - it was such a precious moment! We have continued to incorporate what the children learned through kidevolve in our home - and things feel more calm, and less hectic, as a result.
Jessica Low - Mother of two (5 & 7); Annex Pilot Program
The Kidevolve Program is been an exciting and daring project! My 7 year old daughter really enjoyed the classes, especially the yoga and mindfulness one! What was great is that every week, they explored different aspects of mindfulness and mediation – and learned all sorts of fun ways to "self" regulate. She especially liked the calming jar they made and enjoyed explaining what it was and how it was meant to be used. These programs should be mandatory in all schools … and at work too! We will continue down the path of mindfulness – Thank you Kidevolve.
Anne Seguin - Mother of two (4 & 8); North Toronto Pilot Program
I had my first aha moment in realizing the benefits of my 7 year old son attending kidevolve mindfulness courses , when he sat and meditated with focus on his own accord with my mother who has recently survived breast cancer . It was truly incredible to see the focus , attention and dedication to the moment at hand . Since he has taken it , I find him noticeably much more empathetic , and aware of communicating his feelings when he feels them . It has been a huge plus to our communication and I look very much forward to Sebastian attending another course , as does he .
Naomi Wong - Mother of 7 year old boy; North Toronto Pilot Program
Hosting Kidevolve in our home was an enlightening experience for my children and myself. To walk into the space and feel the groundedness of each teacher was inspiring. The joy reflected on each child's face as they were receiving this gift was something I will always hold in my heart and soul.
Jody Shulgan - Parent-Host; Mother of two (9 & 8); Annex Pilot Program
Ambassador Program
WELCOME
We have lofty and exciting goals. And we couldn't achieve this mission without a strong, committed team. Kidevolve is looking for enthusiastic and creative people to dive into our Ambassador Program, with potential for ongoing involvement in our organization as we grow. We view this as a "win-win" opportunity; one in which we hope to gain insight and involvement from you, while also enabling Kidevolve to grow into an inspirational (and successful!) platform. Let's work together to achieve our personal and professional goals.
OUR VALUES
Inform—help us to inform Kidevolve's model with your own experience and excitement
Connect—jump aboard our collective journey. Expand your own personal network while building Kidevolve into a recognized brand.
Evolve—stretch your approach to mindfulness (and your personal business), sinking it into practice with more kids
Inspire—spark imaginations and expand little minds one kid at a time
KIDEVOLVE AMBASSADOR ROLE
As an ambassador, you are directly involved with the organization of Kidevolve growth by spreading the word. Using your network, this can include, but is not limited to, the following initiatives:
delivering our innovative tools and programs in communities across the GTA and beyond

helping us to promote via social media and right-fit partnerships

contributing to in person programming planning sessions with the founder and our advisory board

contributing to innovation in the area of reaching kids with unique forms of mindfulness training
THE BENEFITS OF BECOMING A KIDEVOLVE AMBASSADOR
Do you love what Kidevolve stands for and want to be a part of creating a program that inspires and ignites? Join us and:
have opportunities to work with the founding team to put your own personal stamp on Kidevolve's program development and delivery

combine forces with a sensational crew of educators all inspired to bring mindfulness to kid's lives

you will be showcased on the Kidevolve Ambassador page with links to your social media

have the opportunity to be featured in one of our guest blog posts throughout the year
Kidevolve Contributors
The Kidevolve collective - Our Team
Kidevolve is more than a business. It's a thriving collective of passionate people. Each person is inspired to make a remarkable difference in kids' lives. Our team expands and contracts depending on our program needs, and we choose each talented team member for their spark, integrity and energy. We call them a collective because they take up the Kidevolve cause and insert passion. They're wily, energetic, vibrant and love kids. Over the past years, we've gathered remarkable people from various backgrounds and skill sets to help us achieve our mission. Take a scroll down to meet some of these remarkable men and women. Hint... they are all big kids inside.
Kirsten is Kidevolve's founder and director. She took one look at the substantial science in support of practicing mindfulness and realized that kids were missing out, because the tools, teaching and instruction didn't connect with the unique ways that children learn. This is when she had her Aha moment… what kinds of approaches could be used to make learning mindfulness more relevant (read: more fun) for kids? Armed with decades of communications, training and marketing expertise running TKO Communications Inc. (a global business communications firm Kirsten has operated for 25+ years), a clear vision about what needs to be built, and a remarkable ability to motivate others to join the cause, Kirsten has pioneered new and innovative ways to help kids become more compassionate, resilient and in control of their inner selves. At first glance, Kirsten is all CEO. But if you take a closer peek, she's also the sensitive mother of a precocious, and thankfully mindful eleven year old boy. Her son, Kidevolve's 'inner samurai of biz. dev', continually inspires Kirsten to keep the kid's perspective at the forefront of everything Kidevolve builds. Kidevolve's social and emotional training programs and 'Creative Mind Journeys'™ (super sticky audio tracks designed to give 6-12 year olds true access into mindfulness training) have developed into a mission-driven line of business, capable of helping kids gain key skills they can use for life. And we're only just beginning…
Jeff Warren is a core Kidevolve Contributor and Creative Advisor. As a writer and meditation instructor, his primary subject is the mind. Jeff is a former producer for CBC Radio, and the author of The Head Trip, a travel guide to sleeping, dreaming and waking consciousness. He also writes a column about the shifting experience of consciousness for Psychology Tomorrow. Jeff is the founder of The Consciousness Explorers Club (a community of meditators, celebrators and activators in downtown Toronto). In 2017, Jeff joined forces with Good Morning America's Dan Harris on a cross- USA 10% Happier: Meditation for Fidgety Skeptics Mindfulness Tour - meeting Americans from all walks of life to bring mindfulness training to their everyday realities. In this same year, Jeff co-authored (along with Dan Harris and Carlye Adler), the New York Time's best seller Meditation for Fidgety Skeptics. Jeff lends his many talents, insights, foresights and writing skills to Kidevolve's evolution and has been a founding advisor. Most recently, Jeff has contributed to writing and developing our Creative Mind Journey™ audio tracks - super fun stories that double as guided practices for kids. Jeff's extensive ecosystem of goodness can be found here.
Cyndi Cornblit is a core Kidevolve Teacher and brings her playful yogi spark to our team. She is the founder of Young Yogis Toronto - a yoga and mindfulness program for children and families. Cyndi believes in helping kids of all ages and abilities discover their inner voice, encouraging them to connect in a nurturing environment through conscious breath and playful movement. She leads classes within the TDBS, and also at yoga studios, community centres and privately. Cyndi is a graduate of The Yoga Space 200hr yoga teacher training program and has been practicing yoga for over two decades. Cyndi is a mother of 2 young children who inspired her to begin teaching yoga to children. Cyndi believes that yoga is the bridge between body and mind and with focus and patience the possibilities are limitless. "That is what makes teaching children's yoga so gratifying; you see the positive impact straight away. It is an incredible experience!"
Marni Levitt is a core Kidevolve Teacher with a magical musical performer spark planted deep inside. Most recently, Marni has contributed to writing and developing our Creative Mind Journey™ audio tracks - super fun stories that double as guided practices for kids. Marni is also the founder of Move-n-Music - a program that provides transformative and interactive performances and workshops for all ages and abilities, with a special focus on children and youth. Marni's programs are filled with the gifts she has gained from her 10+ years leading teams, designing ground-breaking curriculum, teaching adults, and teaching some of the most vulnerable children in the public school system. Marni brings 20+ years performing as a singer-songwriter, 10 years in traditional African drum-dance (including 2x study trips to Guinea, West Africa), and 10 years of study in Yoga and Mindfulness (including specialized certifications to teach children and seniors). Marni's experience, along with degrees in Education and Broadcasting, uniquely positions her as a modern-day wellness guru, guide and cultural animator. Marni has worked with hundreds of children, families and organizations across the GTA. She offers workshops, training, presentations & coaching in English and French, for adults and children of all abilities. For more on Marni, check out this Move-n-Music video.
Cecile Choi is a core Kidevolve Teacher and brings her heart-filled, tactical, wee warrior spark to our team. Cecile has worked in the Annex community for 18 years as a Montessori teacher at Taddle Creek (part of Mildenall Hall Montessori Schools), and now as administrator of their Junior School program. Cecile has created and designed a private children's yoga program for 3-6 year olds called Wee Warriors to inspire and teach young kids to have their own creative yoga practice. When she speaks, kids listen with their entire selves. Cecil's yoga program has been facilitated at Bayview Glen, Baby and Me Fitness as well as a multitude of creative cafés, community centres and schools in Toronto.
Rachel Weinstock is a core Kidevolve Teacher and part real Rainbow Fairy. Rachel brings a spark to everything she touches as an elementary school teacher, professional artist, public speaker, workshop facilitator & life coach. She is best known as Ms. Rainbow Fairy because of her healing approach to teaching that with a focus on creativity, mentorship and self-esteem. She is passionate about creating a better world through play and creativity. Rachel has an absolute gift for creating safe spaces where people are able to explore their most authentic self! Her workshops are known to be deeply inspiring and transformational! Rachel runs PlayFULLY Creative Workshops, which offers expressive arts programming for adults, children and youth.
Catie Fenn is a core Kidevolve Teacher. Catie is a powerful and spark-filled combo— a litigator by day, and on her off-litigator hours she brings her passion for the practice of mindfulness and meditation to others through teaching, writing and speaking about its benefits. Her gratitude for the support she was given as a youth inspired her to commit to supporting youth across Toronto; from teaching girls kayaking and swimming as a camp counselor, to facilitating restorative sharing circles with young offenders through Peacebuilders International (http://peacebuilders.ca/), to coaching and mentoring kids in high priority neighbourhoods about leadership and community engagement through Future Possibilities for Kids (http://fpcanada.org/). Kidevolve is the perfect avenue to combine her love of helping support kids to become caring, compassionate leaders of the future, with her passion for the power of meditation and mindfulness. Katie's most recent mindfulness and world-changing goodness efforts can be found here.
Ali Stark is a core Kidevolve Teacher and brings the grounding spark of Qigong to our program. She is a certified Qigong instructor of Chow medical Qigong and a level 1 & 2 instructor of Radiant Lotus Women's Qigong, and has become deeply passionate about how to integrate these healing exercise into daily life, for the whole family, among friends and through community. Ali has been using these moving meditations to manage her own chronic pain for many years and with the experience of working in a pre-school that had a program for children on the Autism spectrum she has first hand experience in blending mindfulness into day to day reality with a sense of play and inclusion. It is one of Ali's joys in life to work with the whole family when it comes to mindfulness techniques and exercises which she shares through an integrative model of this ancient healing art. Ali has been studying Qigong since 2001 and teaching in Toronto and Montreal since 2009. She currently offers weekly classes for beginners, integrative healing retreats, Qigong in the Boardroom lunch and learns, workshops and private family sessions
Kathleen Paramonczyk is a core Kidevolve Teacher and Jane of all trades. Her inner kid-wrangler spark shines bright. Being mindful is something Kathleen has been working on for her entire life—it's a life-skill that she believes both kids and adults should have at their fingertips. For the past 10 years Kathleen has been sharpening her marketing skills within the Canadian investment industry. Before that, she was an activities manager for kids recreational programs both in Toronto and on a cruise ship for 3 years. Her programming prowess, inner kid qualities and marketing savvy have been braided together for her unique role at Kidevolve. Kathleen is on a mission to ensure as many kids and their adult influencers are given the opportunity to practice mindfulness in all sorts of awesome settings.
Hope Paterson has been a founding advisor to Kidevolve, and believes strongly in the spirit, personality and potential of a little person. She's young at heart, and devoted to the cause of enabling every kid to get in the driver's seat of their mind. As a tenured marketer and shrewd social media sage, Hope has been instrumental in helping Kidevolve to define, connect with and expand its audience. With a serious knack for building fun into the personality of company culture, being a mother of two amazing kids, and having created marketing and outreach initiatives for several kid-focused businesses (like Real Food For Real Kids and the Rainbow Food Education Foundation under her belt), Hope's been able to apply her operational know-how and marketing smarts to bolster Kidevolve's social media presence, create our Ambassador program and connect Kidevolve with community members who want to give back and support social and emotional learning in kids. Hope has also provided voice talent for our Creative Mind Journey™ audio tracks - super fun stories that double as guided practices for kids. Hope's most recent writings, contributions and innovations can be found at MamaHopey - where she shares honest and provocative insights on family life, travel, food and wellness.
Alexander Gagliano is one of Kidevolve's sound designers, a second year student in the Creative Industries program at Ryerson University, as well as a part time music producer and audio engineer. His summer job involves working as a photography assistant at St. Joseph Content, focusing on fashion photography for clients such as Joe Fresh, Sears, and Shoppers Drug Mart. He believes that in this crazy world everyone needs a little extra mindfulness every day, and helping kids to learn such an important skill is an amazing opportunity. Alex has always been interested in music, starting from piano lessons as a four year old, to being a part of the many wind ensembles, jazz bands, and choirs as were available at his high school. Recently he has taken an interest in the world of hip hop and electronic music, and has been working with rappers across the world to help them hone their craft and create the best music they possibly can. Alex has been using daily meditation along with yoga for years to help his chronic pain, and only wishes he had tried it sooner! He understands that the right choice of music can make or break your meditative session and really immerse you in the experience, and is thrilled to be working with Kidevolve to that end. Most recently for Kidevolve, Alex has contributed to sound engineering for our Creative Mind Journey™ audio tracks - super fun stories that double as guided practices for kids.
Amy Smithers is a Kidevolve Contributor, freelance writer, and editor, whose primary subjects are travel and animal welfare. Most recently for Kidevolve, Amy has contributed to writing and developing our Creative Mind Journey™ audio tracks - super fun stories that double as guided practices for kids. Amy previously worked for a travel company, helping clients find a little piece of mind in faraway lands. Amy has a post-graduate degree in journalism, and believes in the power of communication and storytelling to change the way kids (and adults) see themselves and the world around them. She continues to work on her own mindfulness, and is often inspired by her volunteer work with a local animal rescue, where the dogs always seem to have a natural focus on the present. Amy's creative stories allow kids to get playful while learning about the way their own bodies and minds are connected.
Jason Whissell is one of Kidevolve's magical, uber-talented sound designers. With over 25 years in television production experience, Jason has a good understanding of how to tap one's imagination. He is also a teacher at The College Of Sports Media, where he encourages students to not only learn the fundamentals of editing, but to explore the creative process so they can bring their visions to life. On top of all this, Jason is a musician, playing shows locally with his band The Freakin Lolas. In short, Jason is fortunate to lead a life where creativity isn't just hobby… it's a lifestyle. It's that creative spark that he hopes to pass on to his students, his own two children and to everyone who listens to Kidevolve's Creative Mind Journey™ audio tracks - super fun stories that double as guided practices for kids. The imagination is a beautiful thing, one that should be used as much as possible in all that we do in life.
Nick Flanagan is a Kidevolve Contributor, writer, standup comedian and musician. Born in Toronto, Nick's love of Tiny Toons, Pee Wee Herman and general silliness led to a career in comedy and kid's television writing - his first credit was for Babar & The Adventures of Badou, and he's also written for Dino Dan, Oh No! It's An Alien Invasion, The Day My Butt Went Psycho, Odd Squad and Playdate and League Of Super Evil. Coinciding with his career as a television writer was an interest in mindfulness, with instruction from Patricia Rockman and a study of the work of Jon Kabit-Zinn. The practice has been integral since then, and Nick is thrilled to use his writing skills and sense of humour to spread the benefits of mindfulness as much as he can, especially to kids, through Kidevolve's amazing and unique Creative Mind Journey™ audio tracks - super fun stories that double as guided practices for kids. It's a great way to help our future adults focus and feel better about themselves.
Erin Oke - Erin teaches meditation and is the Executive Director at the Consciousness Explorers Club, an innovative contemplative community and think-tank based in Toronto. Her focus is on meditation for self-care and emotional well being and she has taught mindfulness skills in health care, education, corporate and non-profit settings. For Kidevolve, Erin develops and facilitates Stress Busters workshops (fusing visualizations, soothing sounds, grounding exercises and relaxation techniques) to teach Grade 9 & 10 North Toronto C.I. students to calm and care for themselves. Erin has mentored meditating teenagers on iBme's Toronto Teen Retreat and oversees CEC's burgeoning youth engagement initiative. As Youth Programs Coordinator for Evangel Hall Mission from 2007-2018, she ran a centre with free programs for low-income children and youth designed to foster confidence and creativity. She also studied and worked in theatre for many years, and loves to infuse her teaching with a sense of play and creative exploration. Erin is passionate about the confluence of meditation practice and social justice, and using mindfulness in the service of caring better for oneself and others.
Christine Alevizakis - Christine's a movement and mindfulness junkie who has been scheming up different ways of inspiring adults, kids, and everyone in between to find new and meaningful ways to connect to their bodies and minds. For Kidevolve, Christine develops and facilitates Stress Busters workshops (fusing visualizations, soothing sounds, grounding exercises and relaxation techniques) to teach Grade 9 & 10 North Toronto C.I. students to calm and care for themselves. Christine is also passionate about storytelling - especially the kind that make us laugh, dream, think or spark us into action, or non-action for that matter. She's used that passion to fuel her career as a filmmaker and directs and writes documentary films that have been broadcast on CBC, Discovery Channel, TVO, and YTV amongst others. Her latest venture into joy-creation is as a contributor to Kidevolve's amazing and unique Creative Mind Journey™ audio tracks - super fun stories that double as guided practices for kids (and her CMJs are among our most popular). A mom of three shape-shifting kids, Christine takes delight knowing that change is the only constant.
Kevin Lacroix - Kevin teaches meditation at the at the Consciousness Explorers Club, an innovative contemplative community and think-tank based in Toronto. Kevin has studied with Shinzen Young and Soryu Forall and is currently enrolled in the Unified Mindfulness teacher training courses. Kevin has a Bachelor in Fine Arts from Syracuse University, and has trained independently as a musician since he was a teenager. Since leaving his position as Senior Designer with CBC News in 2015, Kevin has kept busy touring, playing guitar in Ron Sexsmith's band, as well as bass guitar in Communism - a trio created by Canadian music mainstay Don Kerr (Rheostatics, Ron Sexsmith, etc) and interdisciplinary artist Kurt Swinghammer. For Kidevolve, Kevin developed and facilitated a Stress Busters 'Musical-Mindfulness' workshop for high school students at North Toronto C.I., to teach relaxation/mindfulness techniques through the exploration of 'overtone singing' (focused listening through simple humming/singing exercises and conducted group music making).
Bookshelf
Books we recommend TO HELP KIDS WITH MINDFULNESS PRACTICE
Check out these fabulous reads to help kids understand themselves and others with more compassion and useful insights:
Contact Us
wE'RE EXCITED TO HEAR FroM YOU...